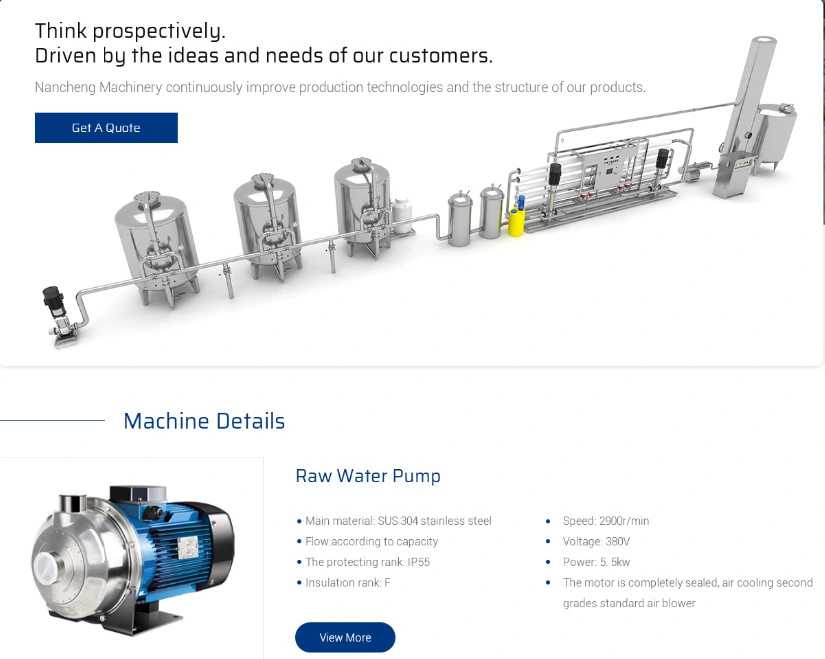 Pretreatment filter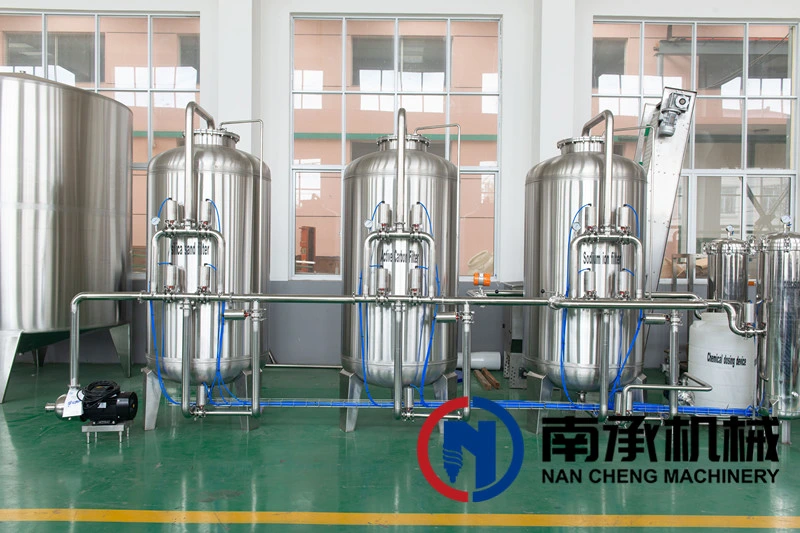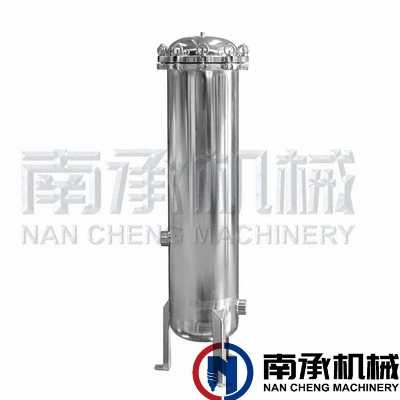 5μm, 1μm PP membrane is used for filtration, and the connection part adopts the company's unique design, which is convenient to disassemble and replace materials, and is beautiful.


RO Reverse osmosis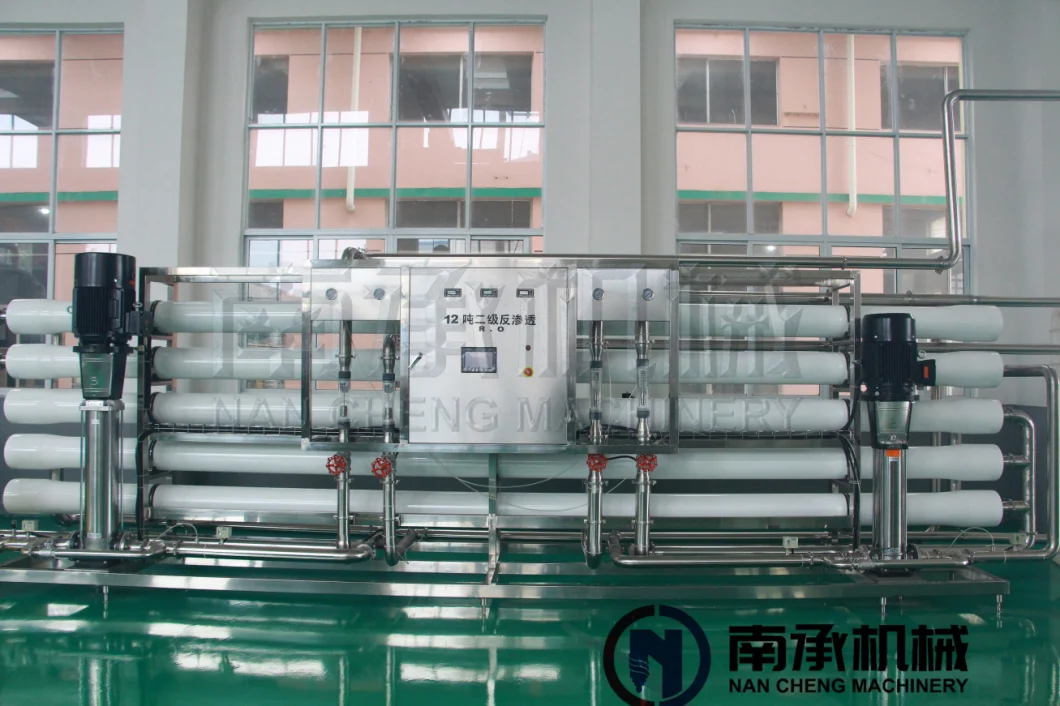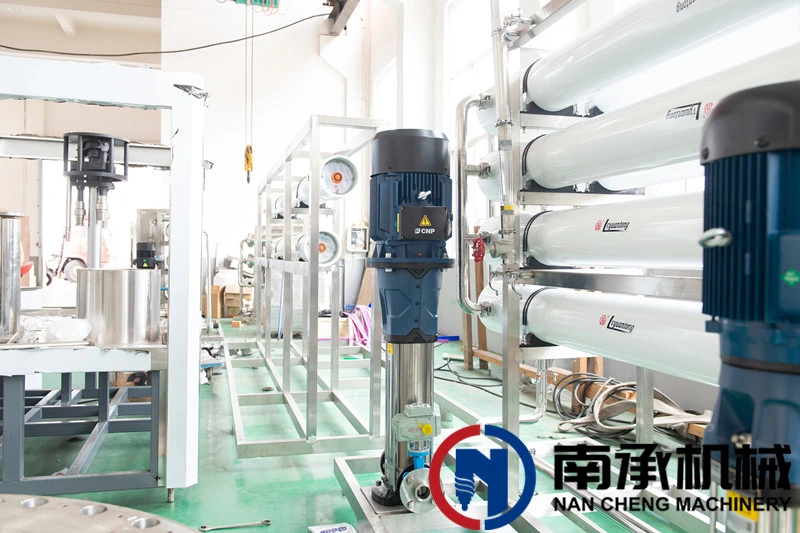 How the Water Treatment and Bottling Plant Works

1.A semi permeable membrane in a reverse osmosis system only allows certain things to pass through.
2.This membrane passes water easily but also prevents many other contaminants from passing by trapping them.
3.Water is normally on both sides of the membrane, the water on each side has a different concentration of dissolved minerals.
4.The water in the less concentrated solution tries to dilute the more concentrated solution.
5.Water will pass through the membrane from the lower concentration side to the greater concentration side.
6.The osmotic pressure (see diagram) created by the difference in water levels, will counter the diffusion process forming an equilibrium between the two sides.


Water Treatment and Bottling Plant Technical route and flow diagram instructions

The technical route is as following:

Raw tank-->Booster pump -->Quartz sand filter-->activated carbon filter--->Anti-scalant dosing-->Sediment filter-->High pressure pump-->Reverse osmosis desalination device-->Permeate tank

Materials of Construction

Skid Frame: SS304
Membrane Elements:Hydraulics CAP3-8040
Membrane Housings: SS304
Low pressure piping: SS304
High pressure piping: SS304
Pump and Motor
Pump: 304SS vertical multi-stage centrifugal
Motor: TEFC, 380/460 VAC, 3-phase, 50/60 Hz.
Standard Features
8" x 40" High rejection membrane elements
5-micron sediment pre-filter housing
Automatic inlet solenoid valve
PLC control
Product water conductivity monitor
Operating pressure gauges
Product and concentrate flow meters
Concentrate and recycle flow control valves
Low inlet pressure switch with shutdown alarm
Auto/Manual wash
Capacity:500-50000Liter per Hour
SS304 construction
USA Brand Hydraulics membrane
SS304 membrane housing
SS304 piping and fitting
Multi-stage SS304 high-pressure centrifugal pump
Schneider,Siemens electronic parts
Nominal Recovery:65-75%
Nominal Salt Rejection:99.60%
Auto/Manual backwash
Low inlet pressure switch with shutdown alarm
Option:Ozone generator,UV,Storge tank etc.

UV sterilizer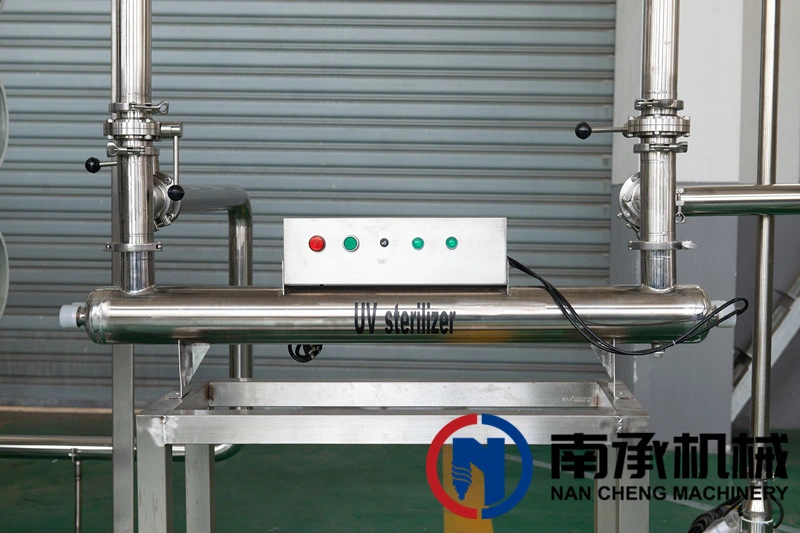 Pure water tank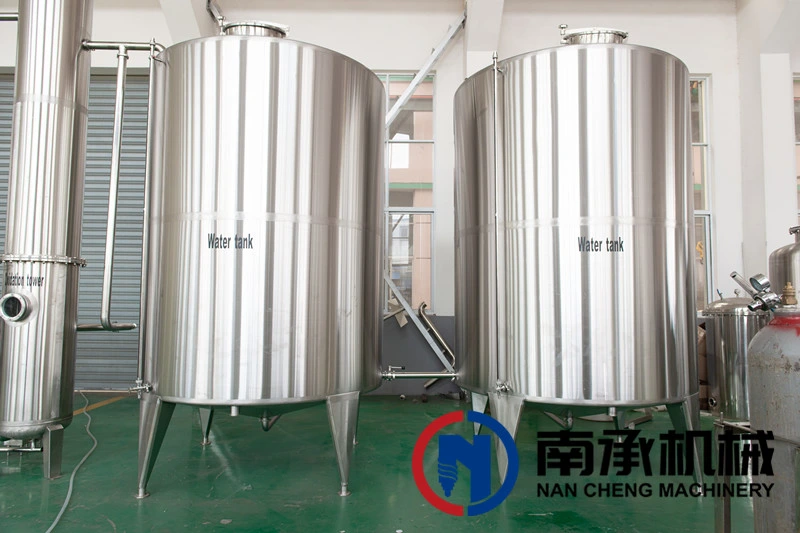 Design Basis:
1. Raw water analysis report (provided by customer)
2. JB2932<Specification for water treatment equipment>JB2932
3. CD130A16<Specification for rubber lining equipment>CD130A16
4. CD130A15<Technical regulation for design of rubber lining equipment>CD130A15
5. GB17323<Hygienic standard of bottled purified water for drinking>GB17323
6. GB17324< Hygienic standard of bottled purified water for drinking >GB17324
7. RO membrane elements manufacturer (RO design guidelines)
Note:
The water analysis report should be provided with signature and stamp by user. And it will be the design basis of this project.
;
Above technical parameters and water quality report which is provided by customer i s the basic data of this prorosal.
Any adjustment to these data,will lead the change of equipment model and configuration.
If the water source used actually has bigger difference from the index in the analysis report for designing the proposal or water source type changes,
other equipment contract will need to be added by the user.
RO membrane capacity test conditions(provided by RO membrane supplier): 2000ppm NaCl,15. 5bar,25ºC,PH8,15% Recovery;
Single-vessel membrane permeate f low may be different, but the deviation won't exceed 7%of the value listed.
When water temperature decreases 10ºC,RO permeate flow will decrease by 10~20%
How the Water Treatment and Bottling Plant Works
1.A semi permeable membrane in a reverse osmosis system only allows certain things to pass through.
2.This membrane passes water easily but also prevents many other contaminants from passing by trapping them.
3.Water is normally on both sides of the membrane, the water on each side has a different concentration of dissolved minerals.
4.The water in the less concentrated solution tries to dilute the more concentrated solution.
5.Water will pass through the membrane from the lower concentration side to the greater concentration side.
6.The osmotic pressure (see diagram) created by the difference in water levels, will counter the diffusion process forming an equilibrium between the two sides.
Water Treatment and Bottling Plant Technical route and flow diagram instructions
The technical route is as following:

Raw tank-->Booster pump -->Quartz sand filter-->activated carbon filter--->Anti-scalant dosing-->Sediment filter-->High pressure pump-->Reverse osmosis desalination device-->Permeate tank
Materials of Construction
Skid Frame: SS304
Membrane Elements:Hydraulics CAP3-8040
Membrane Housings: SS304
Low pressure piping: SS304
High pressure piping: SS304
Pump and Motor
Pump: 304SS vertical multi-stage centrifugal
Motor: TEFC, 380/460 VAC, 3-phase, 50/60 Hz.
Standard Features
8" x 40" High rejection membrane elements
5-micron sediment pre-filter housing
Automatic inlet solenoid valve
PLC control
Product water conductivity monitor
Operating pressure gauges
Product and concentrate flow meters
Concentrate and recycle flow control valves
Low inlet pressure switch with shutdown alarm
Auto/Manual wash
Capacity:500-50000Liter per Hour
SS304 construction
USA Brand Hydraulics membrane
SS304 membrane housing
SS304 piping and fitting
Multi-stage SS304 high-pressure centrifugal pump
Schneider,Siemens electronic parts
Nominal Recovery:65-75%
Nominal Salt Rejection:99.60%
Auto/Manual backwash
Low inlet pressure switch with shutdown alarm
Option:Ozone generator,UV,Storge tank etc.

Optional Equipment Available
Atmospheric storage tanks with level control and repressurization pump
Pressurized storage vessels
UV
Ozone generator
Membrane clean-in-place (CIP) systems
Pretreatment chemical injection systems
| | | | | | | |
| --- | --- | --- | --- | --- | --- | --- |
| Model | Production of water (Ton/h ) | Motor power (kw) | Membrane | Entrance Diameter (mm) | Size(L*W*H) ( cm) | Weight(Kg) |
| RO-0.5 | 0.5 | 1.1 | 4040 | 32 | 170*70*170 | 200 |
| RO-1 | 1 | 1.5 | 4040 | 32 | 155*90*180 | 200 |
| RO-2 | 2 | 3 | 4040 | 38 | 480*70*200 | 300 |
| RO-3 | 3 | 4 | 8040 | 48 | 470*100*230 | 400 |
| RO-4 | 4 | 5 | 8040 | 48 | 470*100*230 | 450 |
| RO-5 | 5 | 7 | 8040 | 60 | 500*120*230 | 600 |
| RO-10 | 10 | 11 | 8040 | 60 | 900*200*200 | 800 |
| RO-15 | 15 | 16 | 8040 | 72 | 1000*187*300 | 1000 |
| RO-20 | 20 | 30 | 8040 | 60 | 1000*180*400 | 1550 |