1. 500LPH ro water filter machine price/pure water making machine/RO water maker
Reverse osmosis (RO) pure water machine, the raw water is tap water, borehole water, well water, underground water first goes by pre-treatment, then by RO treatment, remove dissolving salt 99% and harmful materials, like particle, colloid, organic impurities, heavy metal ions, bacteria, viruses and heat source, etc. the system salt rejection rate gets 96-99%, product water conductivity ≤10μs/cm. The product water is pure, suitable for drinking, it will be a perfect water source of bottled water.
2. Working process
Raw water----booster pump---quartz sand filter---activated carbon filter---water softener (optional)---security filter----high pressure pump---RO system----ozone generator---pure water tank(or bottled water filling production line)
3. Application
1). Electronic industry: Pre-filter for ultra pure water, chemical products and pure water
2). Food and beverage industry: filter for mineral water, wines and fruit juice
3). Medicine industry: filter for drug liquid, gases
4). Chemical industry: filter for organic solvent
5). Petroleum industry: filter for oil-field flooding
4.After-sale service
The above machine which we supply it to you, we can give you one year after sales warranty, we can also send our engineer to you factory to install this equipment and train your staff, but the buyer should pay the round air tickets cost and arrange the hotel accommodation as well as the food for seller's engineer. We will send some spare parts to you for free for replacement. Such as activated carbon, sand, pp security filter cartridges etc.
5.Replacement time of consumable parts
1.quartz sand: 12-16 months
2.activated carbon:12-16 months
3.RO membranes: one and half year, depends on water quality
4.PP sediment filter cartridge: every one month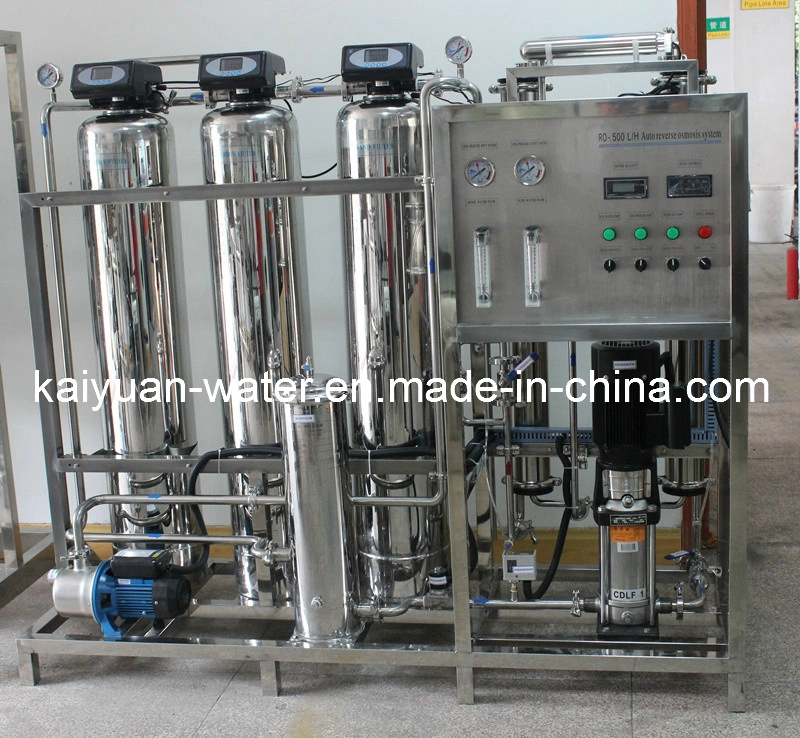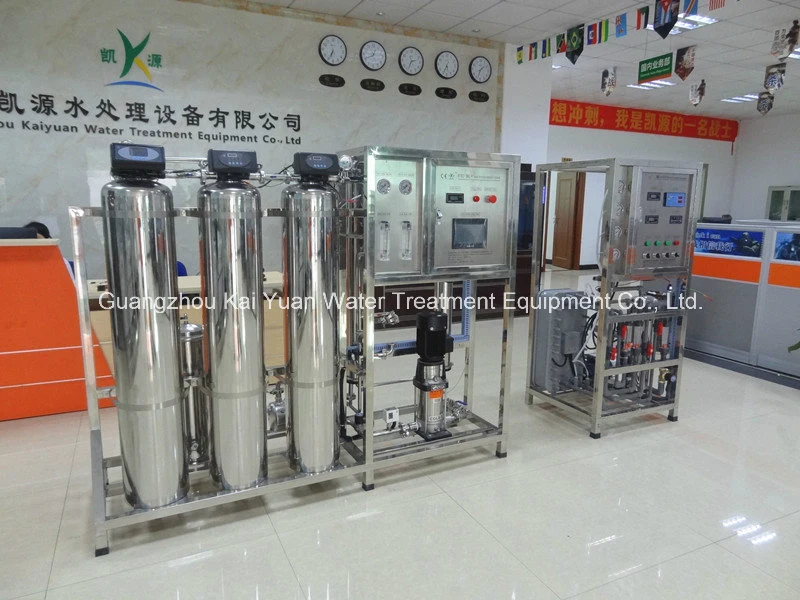 6.Note:
Please also kindly understand that every water treatment equipment, no matter ultra-filtration or reverse osmosis, is a ODM project as different water is of different quality. Therefore, we would require for a raw water analysis / test report for inquiries of water treatment system for any inquiry.
7.the model we produce
| | | | | |
| --- | --- | --- | --- | --- |
| Model No. | Capacity (M3/h) | Power (kw) | Recovery Rate (%) | Size: LX W X H (mm) |
| KYRO-250 | 0.25 | 1.5 | 50 | 2500X1000X2800 |
| KYRO-500 | 0.5 | 1.5 | 50 | 2500X1000X2800 |
| KYRO-1000 | 1 | 2 | 50 | 3500X1200X2800 |
| KYRO-2000 | 2 | 4 | 50-60 | 6500X1500x2800 |
| KYRO-3000 | 3 | 4.5 | 55-65 | 7500X1500X2800 |
| KYRO-4000 | 4 | 6.5 | 55-65 | 7500X1500X2800 |
| KYRO-5000 | 5 | 11 | 60-70 | 10000X2500X3500 |
| KYRO-6000 | 6 | 11 | 60-70 | 10000X2500X3500 |
| KYRO-8000 | 8 | 18 | 60-70 | 10000X3500X3500 |
| KYRO-10000 | 10 | 20 | 60-70 | 10000X4000X3800 |
| KYRO-20000 | 20 | 30 | 70-75 | 15000X5000X5000 |
| KYRO-30000 | 30 | 40 | 70-75 | 20000X6000X5000 |
| KYRO-50000 | 50 | 50 | 70-75 | 30000X8000X5000 |