China Manufacture Pure Water Filling Machine Mineral Water Fill Machine
This Series water washing filling capping 3-in-1 machine is mainly used for washing,filling sealing Non-Areated carbon dioxide drink such as mineral water,pure water,non-gas wine drink and so on.The machine design is shorten the time for the drink material contact with outside,increase the sanitation condition throught economy benefit.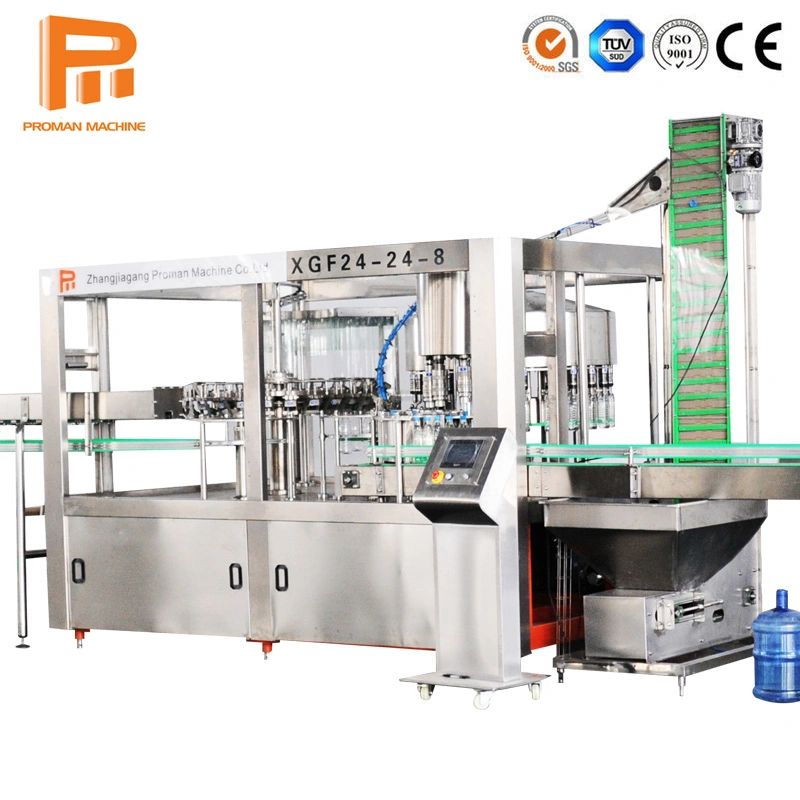 Feature of Water Filling Machine:

1 Direct connection technology between air conveyor and in-feeding starwheel is applied to replace in-feeding screw and conveying chain to ease bottle changing process with only to change few parts. Newly-designed bottle-separating grippers are assembled to starwheel.
2 We adopts Neck-hanging technology in bottle transportation. Instead of traditional starwheel, we use neck-hanging gripper to make bottle-size-changing easily , without equipment height adjustment ,only few parts need to be adjusted
3 Specially-designed rinser grippers which are made of stainless steel are firm and endurable, with no contact to screw part of the bottle to prevent second pollution.
4 High-speed, easily-cleaned filling valves with big flow volume are equipped with well CIP system and control system to rinse the equipment thoroughly.
5 splint of starwheel using twist descending way to simplify the process of bottle-size-changing. Only need to change arch board and starwheel, within ten minutes.
1)Water treatment system
Source water tank →Source water pump→ Quartz sand filter→ Active carbon filter→ Ion soften machine→ Fine filter →Reverse Osmosis → Ozone sterilizer → pure water tank
(Description: The processing flow adopted by a set of Pure Drinking Water Treatment System depends on quality of water source and target purpose of water usage. The selected flow basically includes three parts: pretreatment system, micro processing system and terminal processing system. The Pretreatment system includes multi-media filter, active carbon filter, softener, iron-manganese removal filter, ultra-filter, micro-filter, etc. The micro processing system adopts membrane filtration and ion exchange method. The terminal processing system involves in ozone/UV sterilization, iron exchange etc.)

2) Bottle filling & packing system
Pure water tank→Bottle blower→Air conveyor →Washing, filling & capping 3-in-1→ Light check → Full-automatic labeling machine → Ink jet machine →Full automatic PE film packing machine→ warehouse
(Description: Spring cramps are used in the bottle washing process. The empty bottles can be turned over 180~ along the conveying rail. There is once time of internal and external washing, the efficiency of bottle washing is high.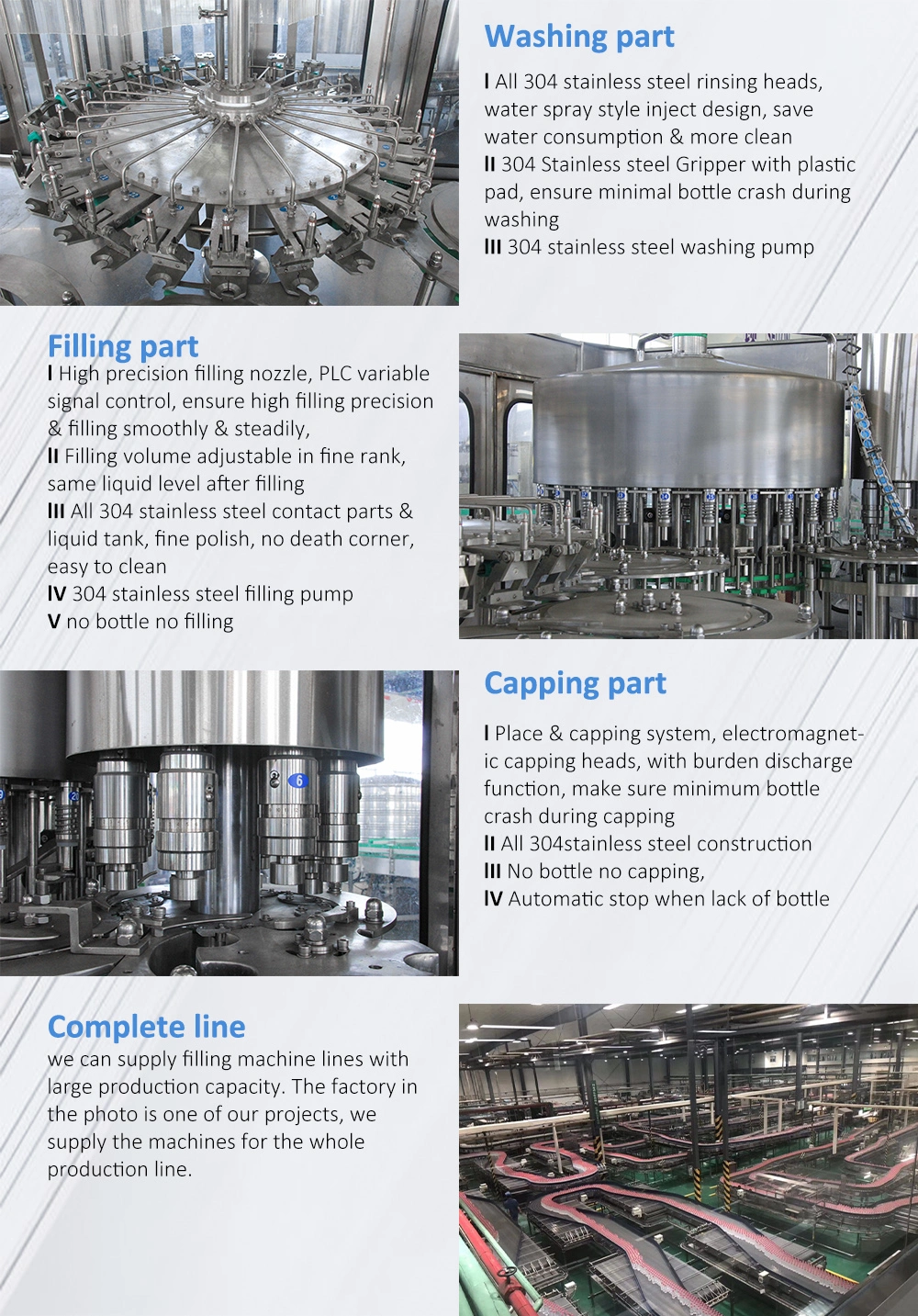 Capability Character
It adopts hanging type conveying-bottle structure to make changing bottle more convenient,faster and easier.Themain machine adopts advanced PLC control technology.The key electric elements adopt international famous products.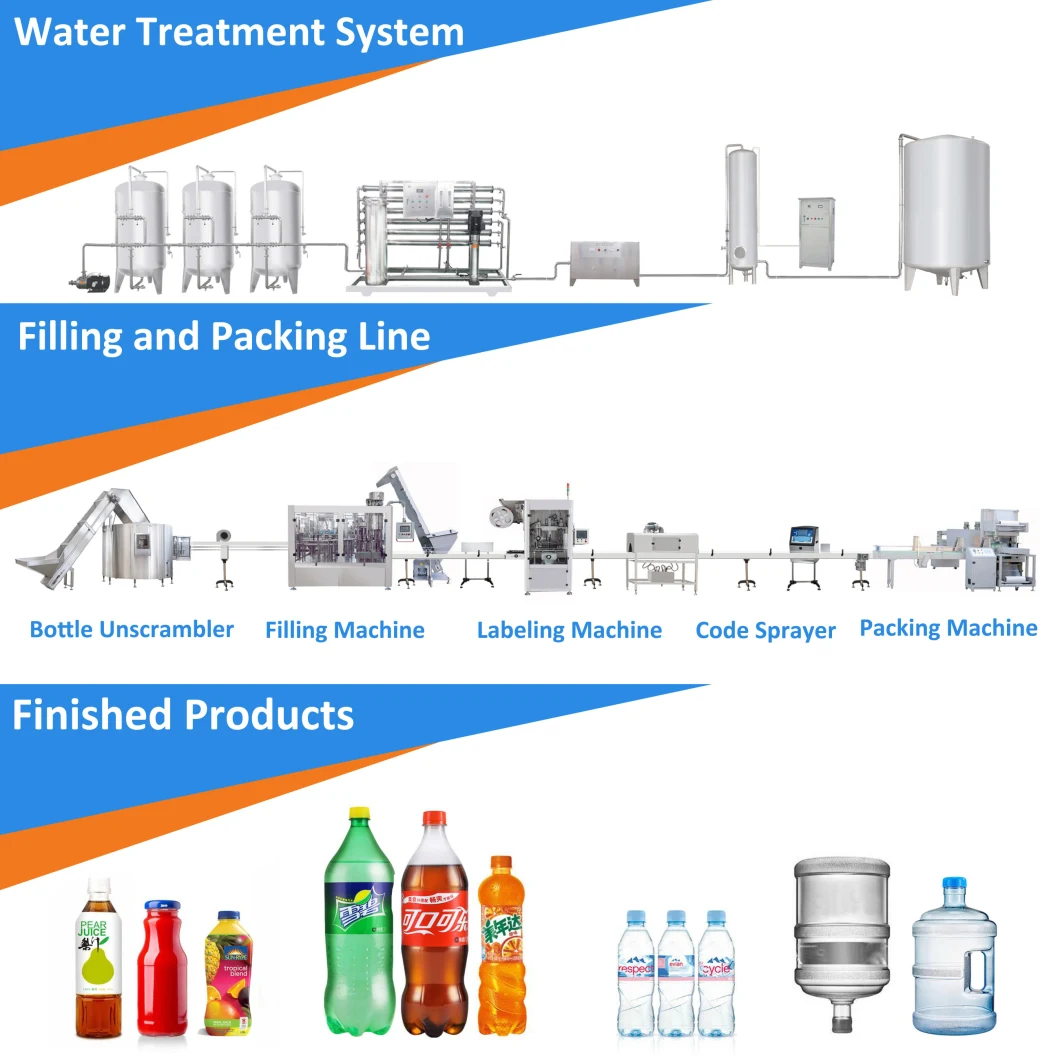 Technical Character
| | | | | | | |
| --- | --- | --- | --- | --- | --- | --- |
| Model | CGF8-8-3 | CGF14-12-4 | CGF18-18-6 | CGF24-24-8 | CGF32-32-10 | CGF40-40-12 |
| Number of rinsing head | 8 | 14 | 18 | 24 | 32 | 40 |
| Number of filling head | 8 | 12 | 18 | 24 | 32 | 40 |
| Number of capping head | 3 | 4 | 6 | 8 | 10 | 12 |
| (500m)Rated production capacity | 1000-2000 | 2000-4000 | 6000-8000 | 8000-12000 | 12000-16000 | 16000-20000 |
| (KW)Installed capacity | 3 | 3.5 | 4 | 4.8 | 7.6 | 8.3 |
| LxWxH(mm)Overall size | 1900×1420×200 | 2200×1600×2300 | 2450×1900×2300 | 2750×2180×2400 | 4600×2300×2300 | 4550×265×2300 |
| | | |
| --- | --- | --- |
| S.N. | Name | Remark |
| 1 | Washing head with bottle neck hanging | Made by our factory |
| 2 | Filling valve | Made by our factory |
| 3 | Sealing head | Made by our factory |
| 4 | Touch screen | Siemens |
| 5 | Transducer | Delixi |
| 6 | PLC | Siemens |
| 7 | Approach switch | Autonics |
| 8 | Light fiber switc | Autonics |
| 9 | Pneumatic elements | Airtac |