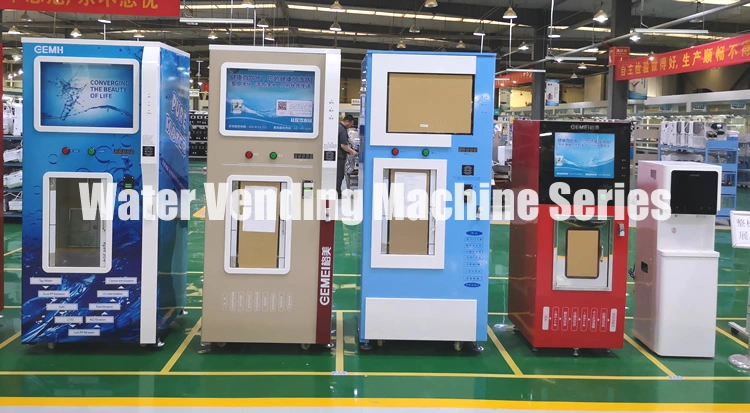 0.5T/H Water Reverse Osmosis System/Water Treatment Equipment/Water Treatment Plant
Reverse Osmosis water system, the raw water is tap water, first goes by pre-treatment, then by RO treatment. Through those treatments, can remove dissolving salt 99% and harmful materials, like particle, colloid, organic impurities, heavy metal ions, bacteria, viruses and heat source, etc. The system salt rejection rate gets 96-98%, outlet water conductivity gets ≤ 10μ S/cm².
The reverse osmosis(RO) water treatment plant is an equipment to purify water with the action of pressure difference of semi permeable membrane. RO membranes can effectively remove majority of organics, harmful substances, bacteria, particulates etc in the raw water. RO system is widely used in water treatment, purification for tap water, well water, underground water, borehole salty water, brackish water and seawater, pure water and ultra-pure water production, power stations, electronic industries, cosmetics production, medicine(pharmaceuticals) manufactories, and medical treatment(such as hemodialysis). It is a key equipment for pure water plant and ultrapure water equipment.
Raw water source: Bore whole, river, well, mountain spring, lake, etc
Raw water pump/multi pump: Nanfang, Grundfos
Filter media: Quartz sand filter, active carbon filter, security filter( PP filter)
RO Membrane: Filmtec Dow,Hydranautics
Different Water TDS(Total Dissolved Solids) compare and usage
Raw water/
Application
Bottled water,
Bag water
City tap water
Brackish water
Seawater
TDS Range
2-10ppm
100-1000ppm
2000-20000ppm
20000-40000ppm
Direct Drinking
Yes
Yes/No
No
No
Cooking, human
consumption, washing
Yes
Yes
No
No
Irrigation, Industry,
Animal Drinking
Yes
Yes
No
No


Working process
1. Raw water pump-- provide the pressure to quartz sand filter/active carbon filter.
2. Multi-medium filter--get rid of turbidity, suspended matter, organic matter, colloid, ect.
3. Active Carbon filter--Remove the color, free chloride, organic matter, harmful matter, ect.
4. Softener--exchange "ions" of calcium and magnesium with the most common and easiest method.
5. Micron filter--prevent large particles, bacteria, viruses into RO membrane, accuracy is 5um,
6. High pressure pump--Provide the high pressure to RO membrane ro.
7.RO system-- main part of the plant. The RO membrane's desalting rate can reach 99%, removing over 99% ions.

Technical Data:

| | | | | | |
| --- | --- | --- | --- | --- | --- |
| Model | Water Capacity Ton/Hour | General Power (kw) | Electrical Power(50~60HZ) | Membrane | Size (L*W*H) mm |
| RO-100L/H | 0.1 | 1.0 | AC220V | EC4021-800A | 690*570*1490 |
| RO-250L/H | 0.25 | 2.2 | AC220V 18A/380V 9A | ESPA4040*2 | 1550*900*1820 |
| RO-500L/H | 0.5 | 2.75 | AC220V 18A/380V 9A | ESPA4040*3 | 1550*900*1820 |
| RO-700L/H | 0.75 | 4.25 | AC220V 27.5A/380V 13A | ESPA4040*4 | 1550*900*1820 |
| RO-1000L/H | 1 | 3.75 | AC220V 27.5A/380V 13A | ESPA4040*4 | 1980*900*1940 |
| RO-2000L/H | 2 | 4.75 | AC380V 8.8A | ESA4040*6 | 4800*700*2050 |
| RO-3000L/H | 3 | 5.75 | AC380V 10A | ESPA4040*7 | 6000*800*2200 |
| RO-4000L/H | 4 | 7.5 | AC380V 12A | ESPA4040*8 | 7000*900*2400 |
| RO-5000L/H | 5 | 12.5 | AC380V 25A | ESPA8040*9 | 8000*1000*2700 |
Features:
All essential parts are from famous factories with high quality

Easy to extent. Just need to add more membranes for bigger capacities.

Self protection mechanism. Stop for self protection when fault occurs

High desalination rate (>98%)

Low energy consumption

High recovery rate(from 50-75 %)

Reasonable structure, less space occupied

Advanced membrane protect system. Before shutting down, fresh water can wash the contaminated substances on the membrane surface automatically

Low maintain cost
Application:
Electronic industry--water for washing electronics components like integration electric circuit, silicon wafer, and display tube
Water for Pharmacy industry
Water for chemical industry
Boiler feed water for electric industry
Water for food industry--drinking pure water, beverage, beer, wine, health products, etc
Sea water and brackish water desalination
Drinking pure water--houses, communities, companies, etc.
Other process water
Water for electroplate industry
RO main component list:
1.Standard back flushing pump(with electric machine)/inlet solenoid valve

2.Back flushing dosing device/5μm precision filter/integrated membrane housing
3. DOW membrane/ Hydraulics
4.Automatic chemical self washing mechanism/baking finish or S.S frame
5.Supervisory meters,such as concentrated water pressure gauge,flow meter,conductivity apparatus
6.Automatic control
Design basic data

(For reference only,exact specification is subject to raw water and product):
1.Inlet water SDI(15 MINS):<5
2.Inlet water TURBIDITY:<1.0NTU
3.Inlet water Fe:<0.005ppm
4.Inlet water chlorine:(mg/l)<0.1
5.Inlet PH:2~11
6.Inlet water temperature:4~45ºC
7.Desalination rate:95~99%
8.Outlet water PH:5~7
9.Output water meet the WHO drinking standard
Product Details show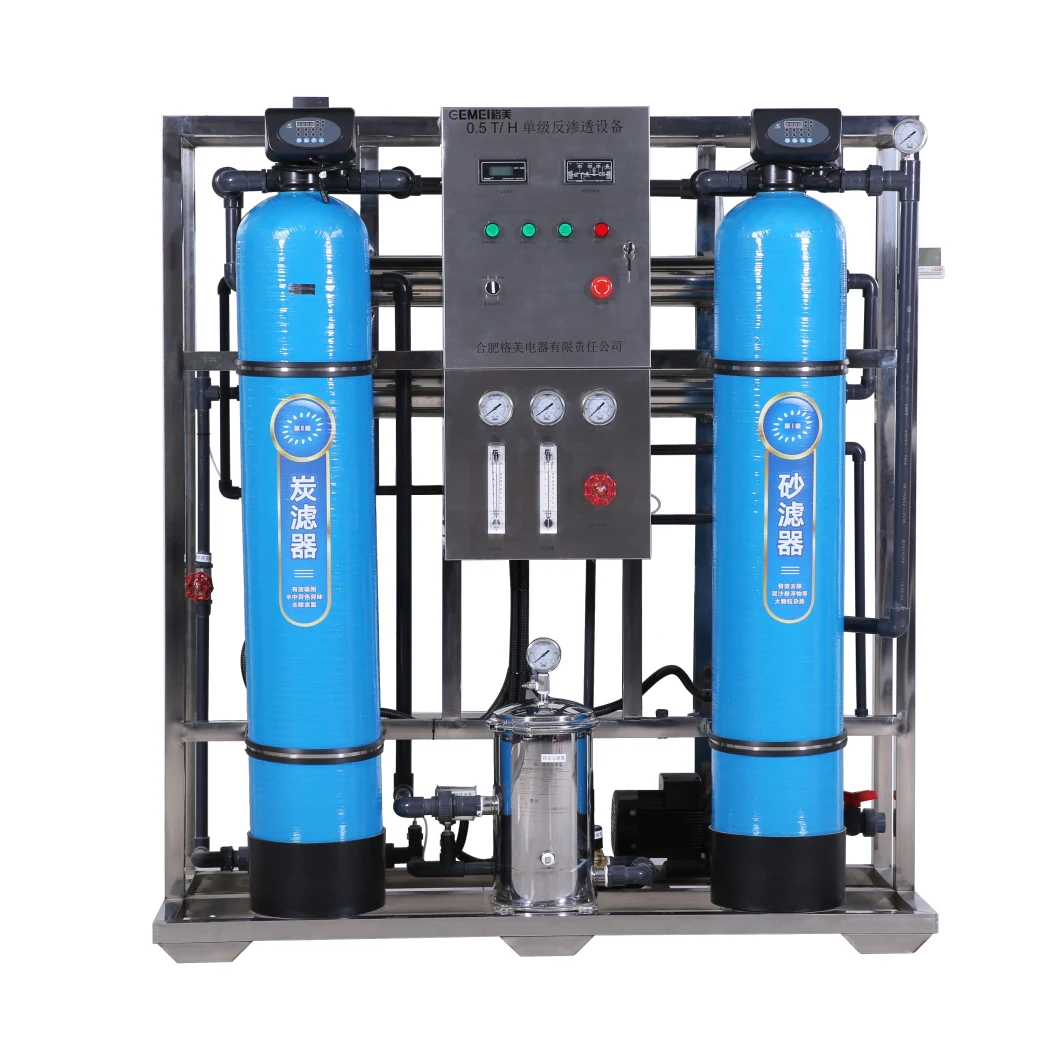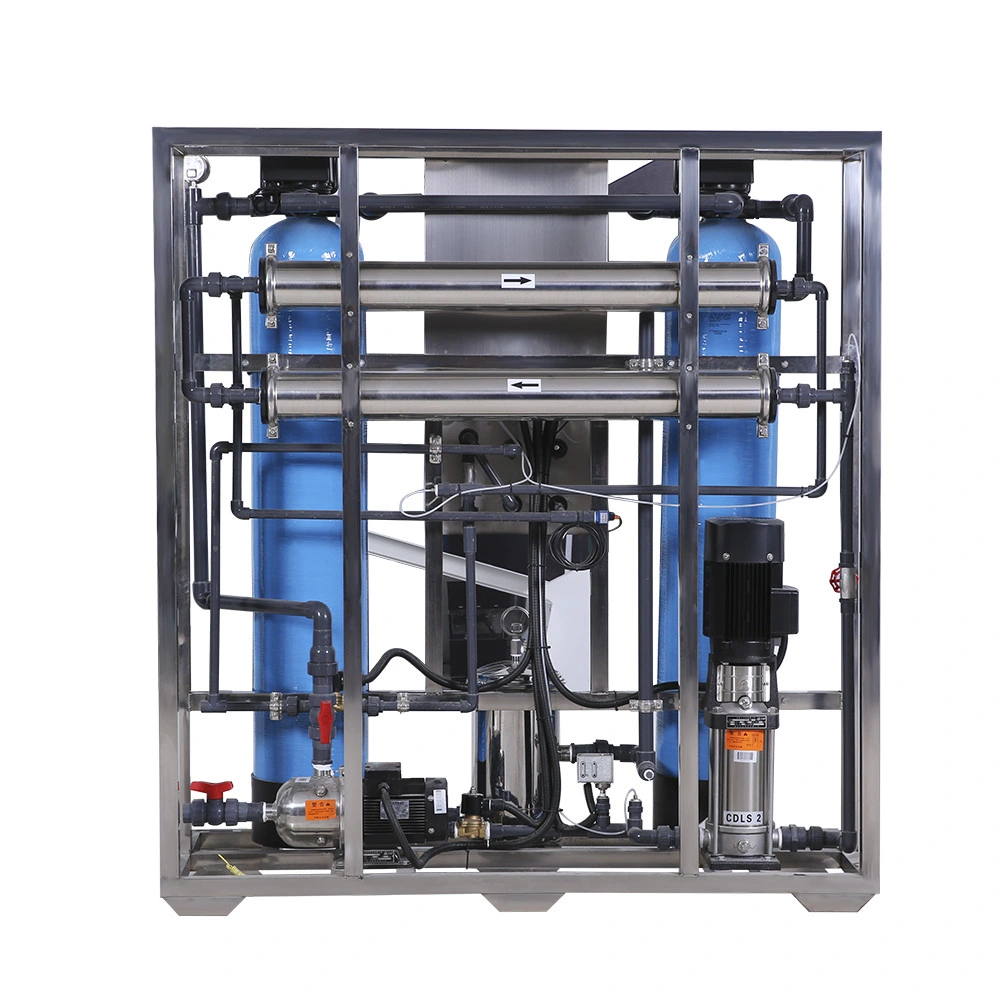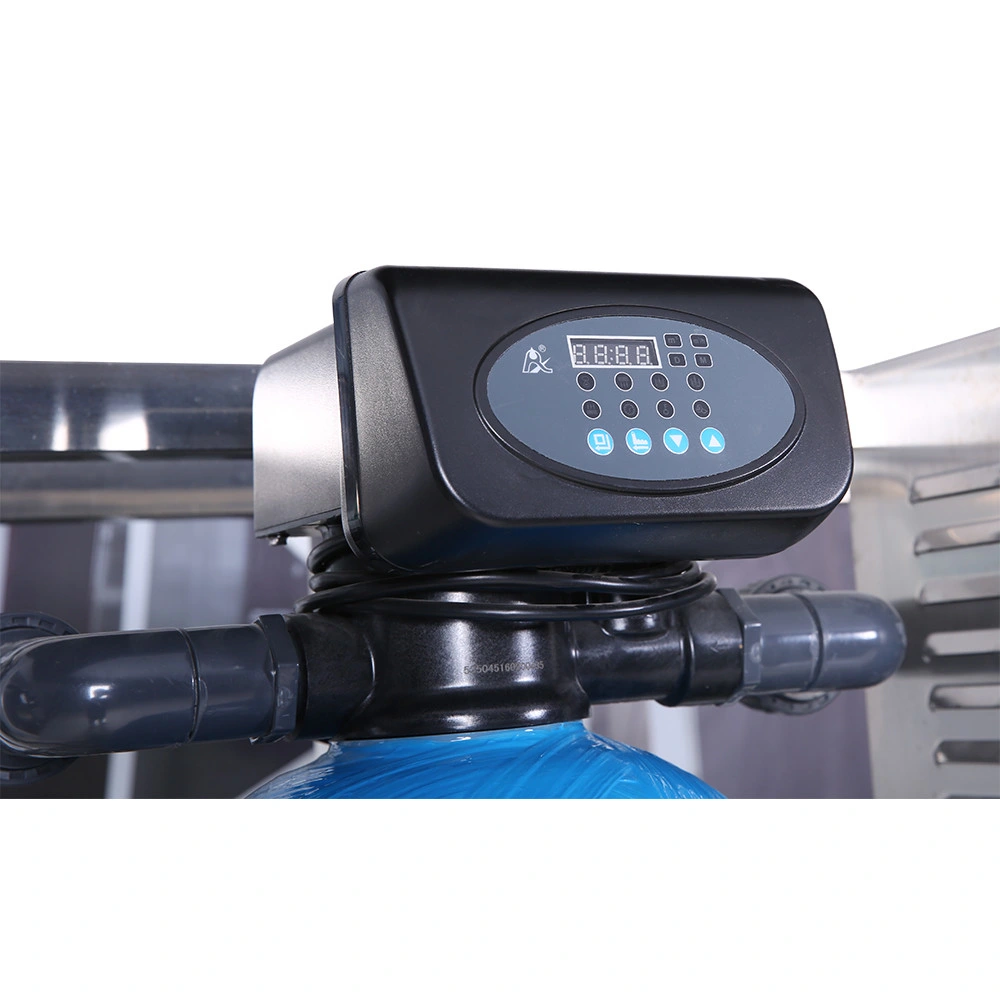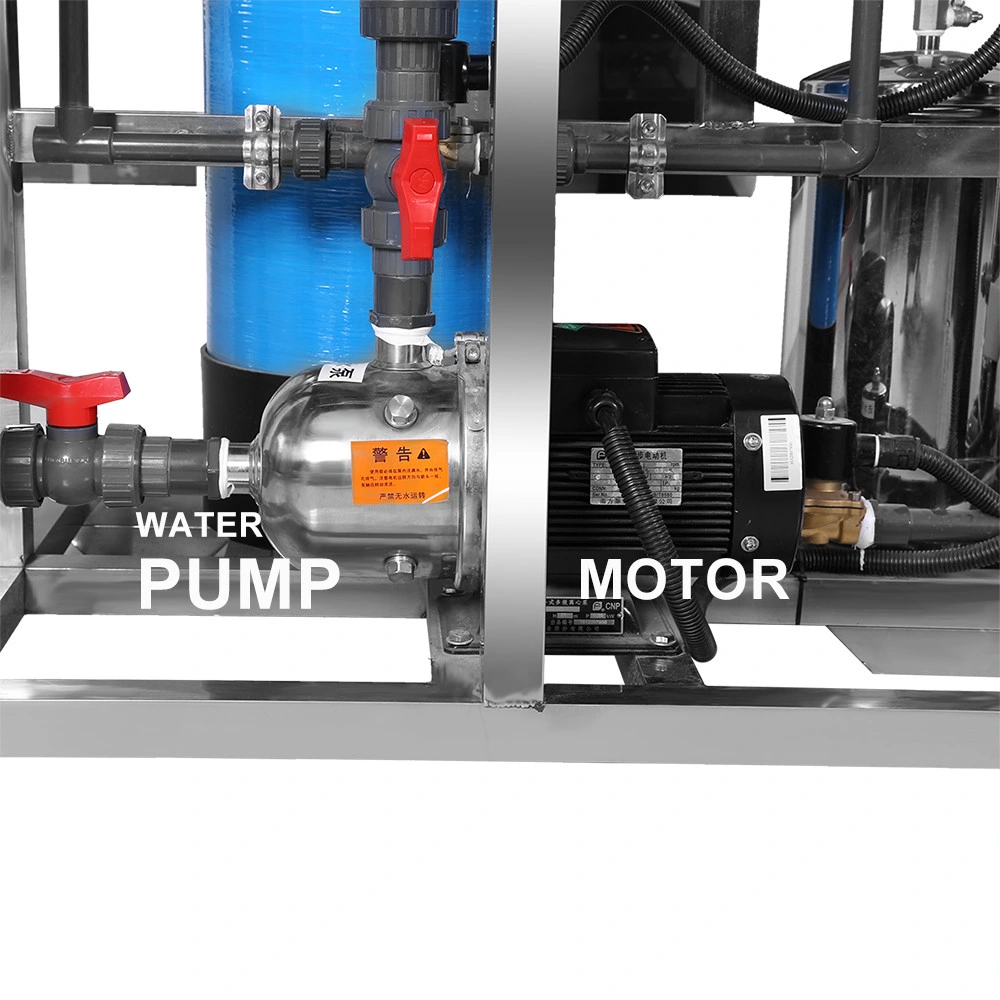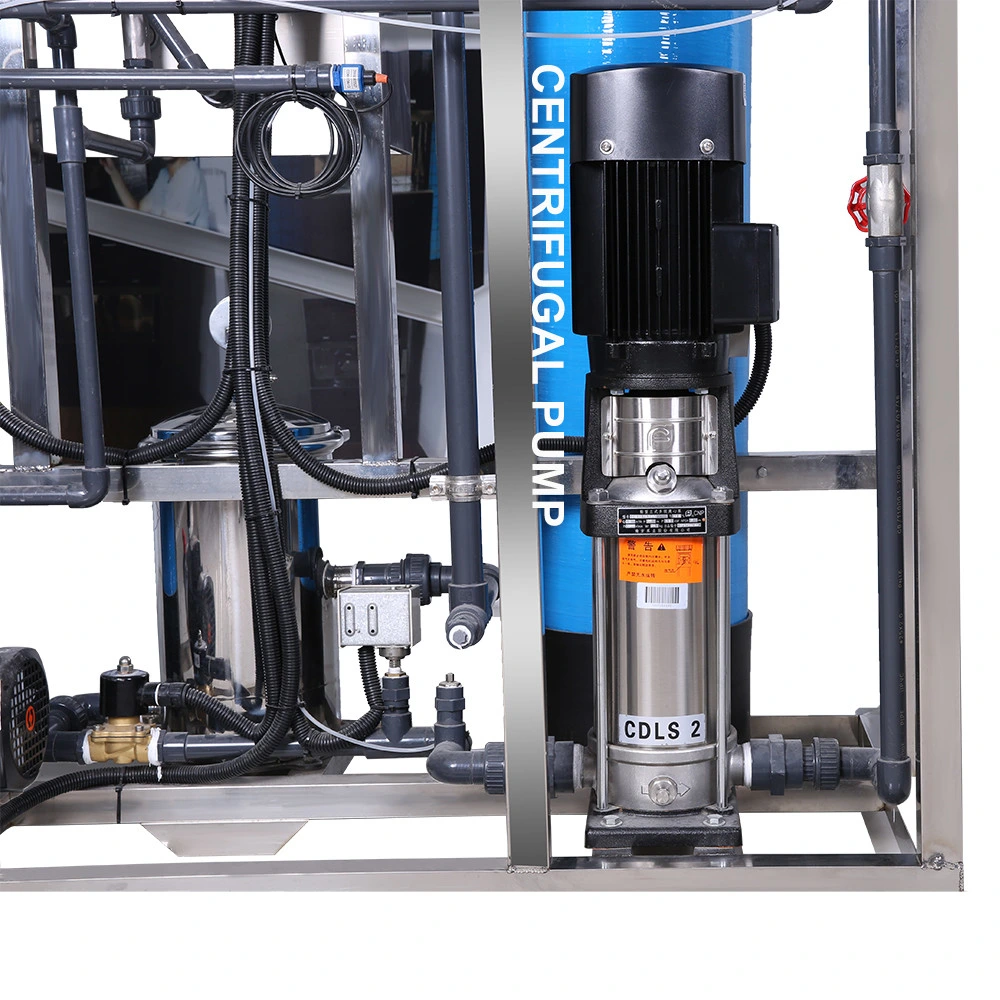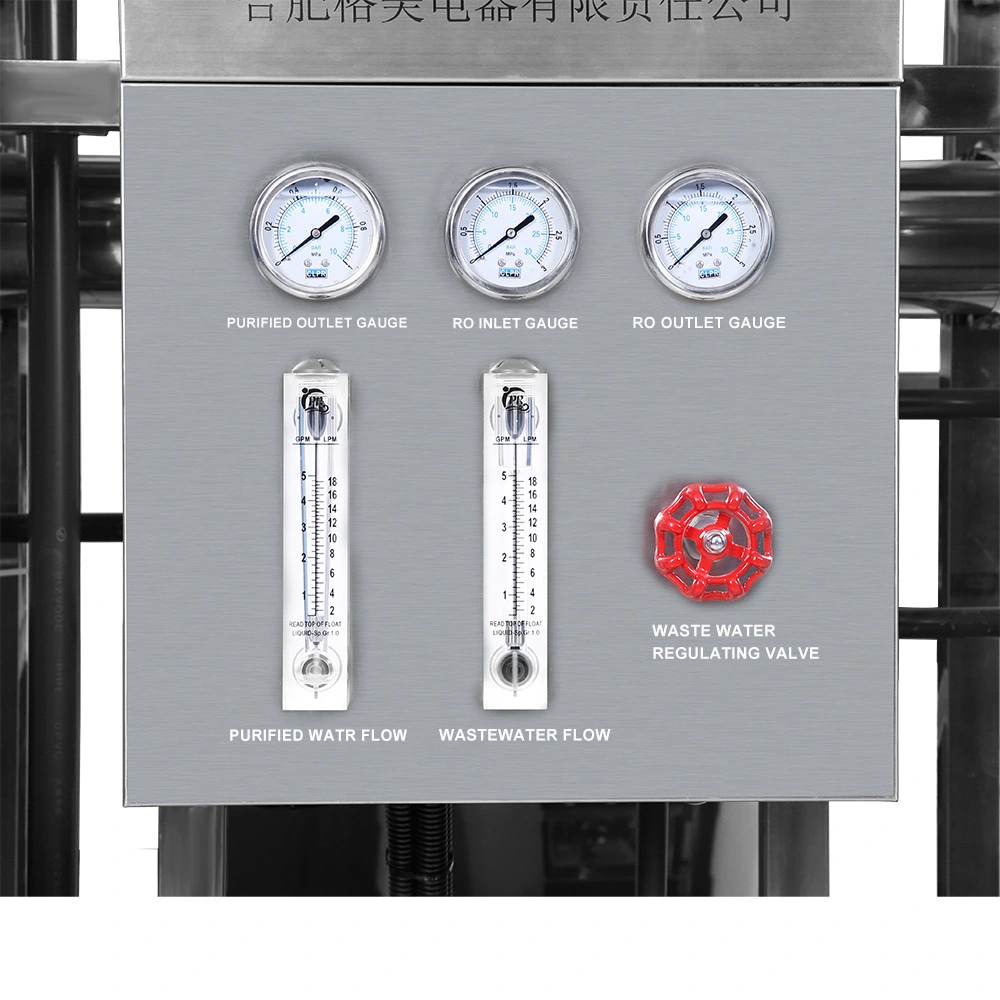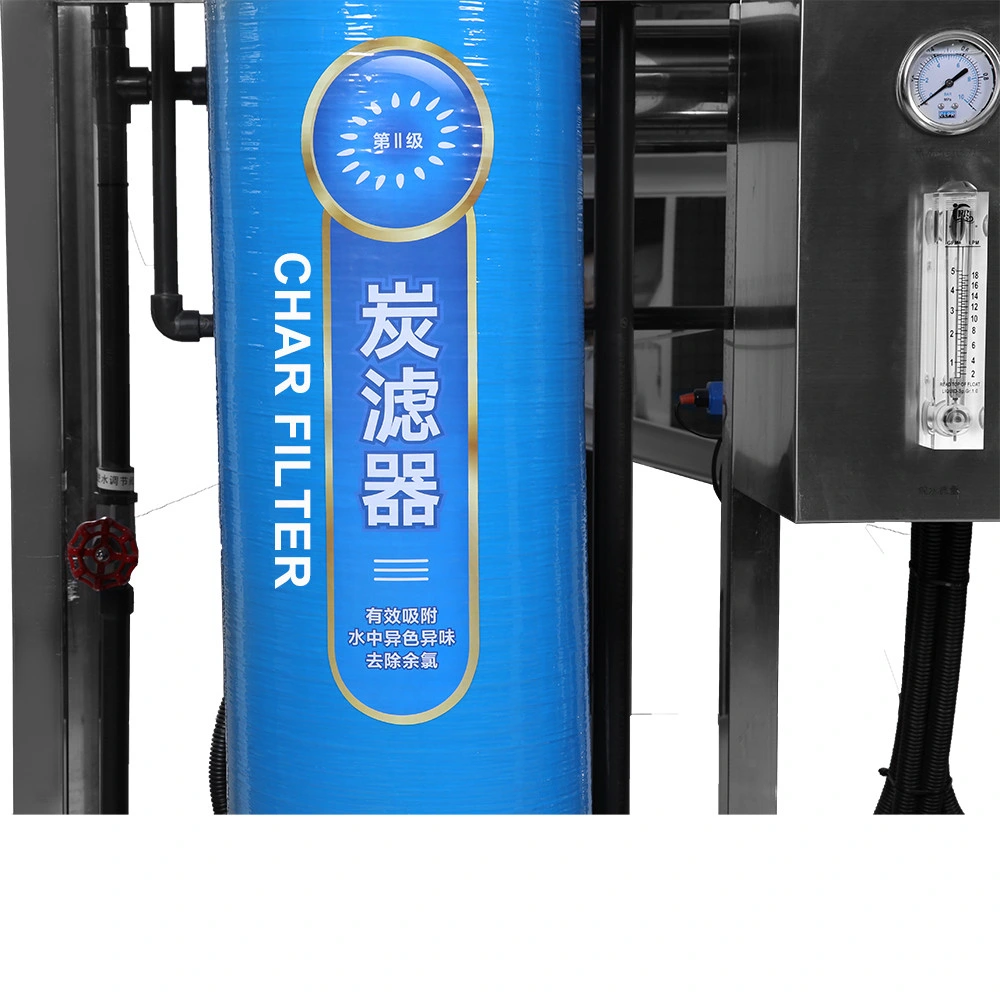 Parameters
| | |
| --- | --- |
| Product Name | 0.5T/H Water Reverse Osmosis System/Water Treatment Equipment/Water Treatment Plant |
| Product model | GM0.5T |
| Body Size | 840*875*1920mm |
| Packing Size | 880*915*1920mm |
| Purified water flow rate | 0.5T/H |
| Power | 1.9KW |
| Pressure of inlet water | 0.1-0.4MPa |
| Working Pressure | 0.4-0.7MPa |
| Power supply | AC 380V 50Hz 3phase or 220V 50hz single phase |
| Brand Name | OEM /own brand |
| Function | Pure water machine |
| Quartz sand filter | 250 × 1300 SUS-304 1pc |
| Activated Carbon filter | 250 × 1300 SUS-304 1pc |
| Water softener | 250 × 1300 SUS-304 1pc |
| Security filter | 20 "× 5μm , 3pcs |
| Quartz sand | 100KG |
| Activated carbon | 25KG |
| MOQ | 1SETS |
| Resin | 50L |
| Size (mm) | 1.0*0.8*1.7m, 1.0*0.8*1.7m |

Company Information
We have
* over 1600 employees
* over 12000 square meters GMP standard dustless workshop including Electronic SMT workshop,Mould injection workshop,Sheet metal processing workshop,Installation workshop, dozens of modern water filters production line,QC lines,and professional,systematic injection molding production lines.
We can produce
* over 600,000sets household water filters,
* 800,000pcs water tanks,
*15,000pcs engineering water filters,
*60,000sets water vending machines,
*10,000sets commercial water filters,
* 2,400,000pcs water filter cartridges.
Our production capacity is China water filter lines leader, annual sales amount can reach USD140million in last 2018.


We support OEM/ODM service, warmly welcome global retailers and agents!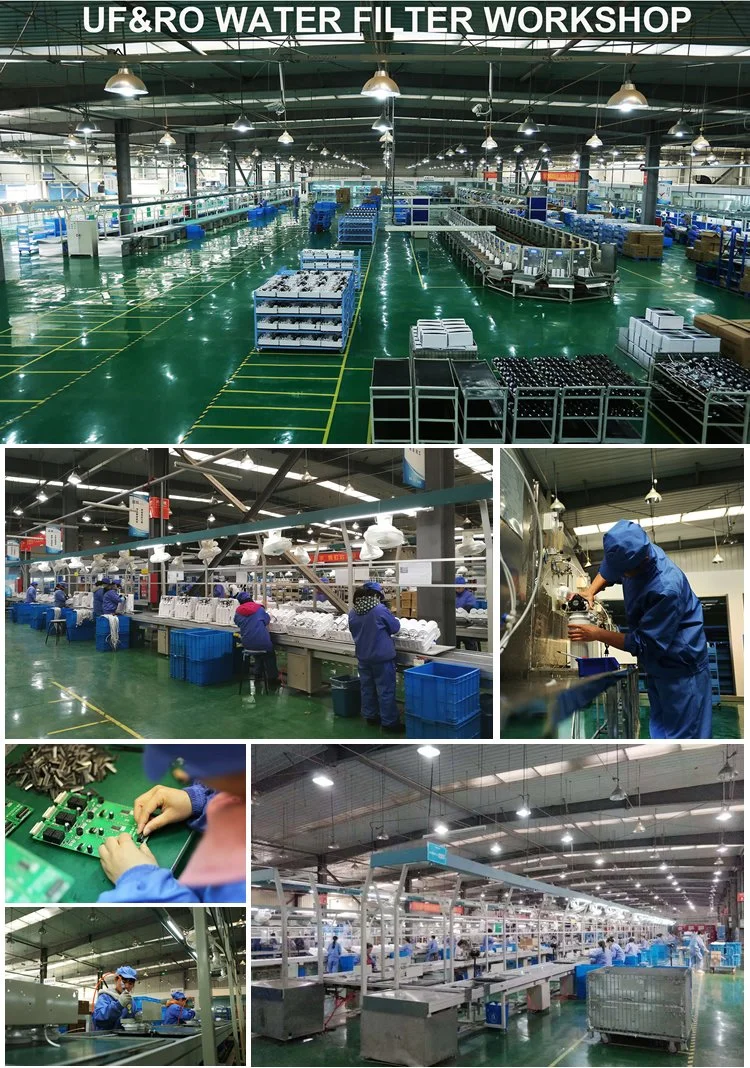 Factory Workshop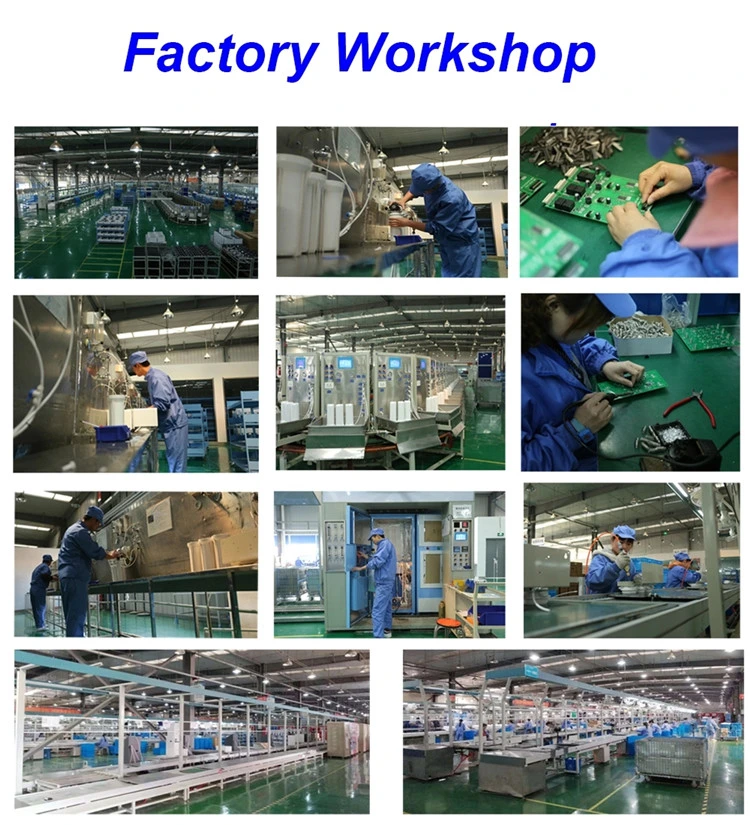 Our Certificate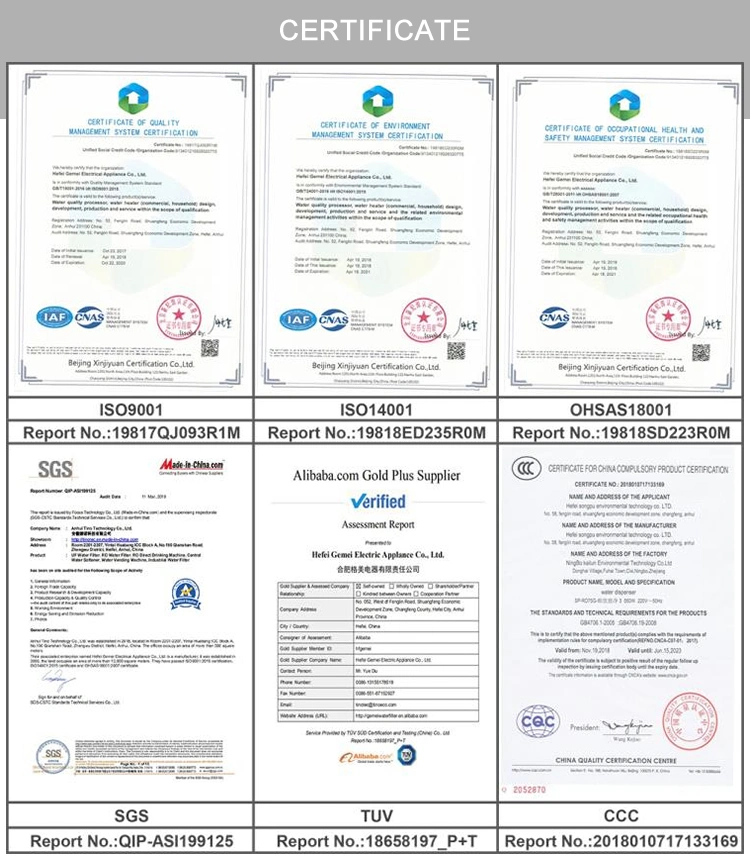 Transportation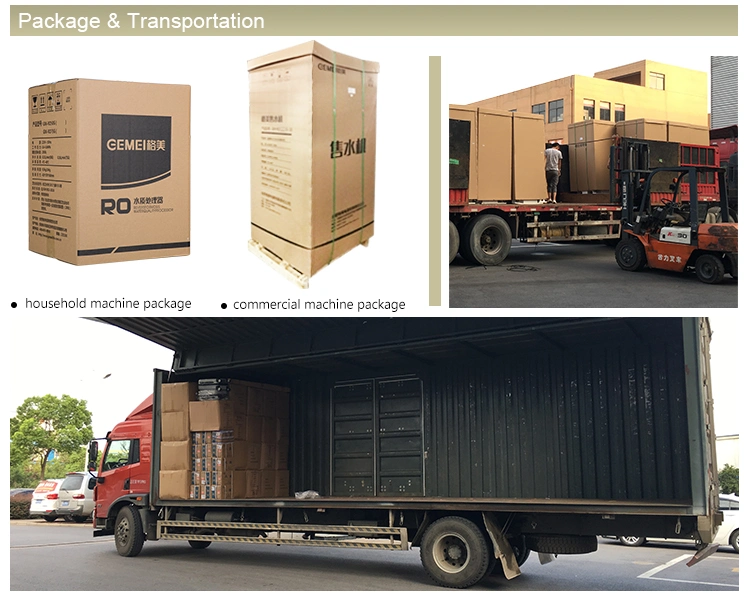 FAQ

Q1:How could I get the samples?
A1:Please offer your required sample detail specification and your address, we will deliver the samples to you against your payment .

Q2:Where is your port?
A2:We usually export from Ningbo or Shanghai Port in China.
Q3:Sample
A3:Sample and delivery costs should be paid by client, delivery date within 1-2days for stock; Customized design within about 3-7 days.
Q4: What's the MOQ for OEM brand?
A4: The household appliances MOQ is 20pcs , commercial equipments MOQ 10pcs and Industrial equipments MOQ 5pcs .
The OEM services include customization of panel design, and product material .

Q5:What about the payment?
A5: T/T, L/C.or according to order actual situation.

Q6:What's your delivery time?
A6:As we are the manufacturer,after receving your deposit, we can deliver your order within 20 days.